Meet Author E. E. Duncan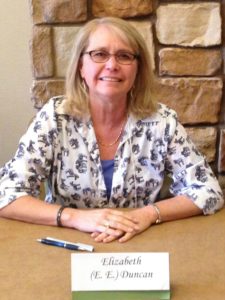 E. E. are the initials of my given name, Elizabeth Ellen. I have always been called Beth. Some of my favorite authors use their initials on their published works. My pen name honors and follows the tradition of great authors like J. K. Rowling (Harry Potter), J. R. R. Tolkien (The Hobbit), A. A. Milne (Winnie-the-Pooh), E. B. White (Charlotte's Web), S. E. Hinton (The Outsiders), L. M. Montgomery (Anne of Green Gables), J. M. Barrie (Peter Pan) and e. e. cummings (poetry).
I have always enjoyed reading, writing and sharing stories. Writing children's books allows me to focus many of my interests and abilities in one direction.
My life has focused on children — as a teacher, as a parent, and as a writer. I taught gifted and talented elementary students for many years. The curiosity, imagination, compassion and laughter of my students inspire my writing.
As a parent, my husband Robert and I raised three children and watched them grow into thoughtful, caring adults.
Our Family When Kids Were Young
Our Family Now
I use my experiences as a teacher and a parent every day in my writing.
In my biographies and historical fiction, I explore how history affects everyday people. My books link history and personal choices in a story. I want young people to understand the human connection they share with the past. My writing combines my interests in history, human nature, and storytelling.
My books for younger readers are filled with fun and imagination and have, at their core, a teaching concept. My characters explore the world around them and learn at the same time, just like the children I know.
In addition to writing, I enjoy many other activities. I live in Colorado and appreciate the beauty and history of my home. Much of my time is spent reading fiction books written for all ages. To keep a connection with students, I lead school groups at the History Colorado Center.
My husband and I have traveled all over the world and spend time in the Colorado mountains. I play word and trivia games, especially Scrabble and Jeopardy, sing in a rock and roll choir and take art classes. I love animals and have one highly sensitive cat, Izzy, as well as four "grandcats" who live with my children.