Climate change is on the minds of everyone, including our children. Ellen Herbst, a UCSF psychiatrist and mother of two, suggests that the climate crisis is impacting the mental health of children and adolescents. She explains that children are, appropriately, being educated about climate change in many schools and learning about it in the news. But they are not necessarily given the coping skills to handle the devastating and anxiety-producing information.https://magazine.ucsf.edu/helping-kids-cope-with-climate-change-anxiety
There is a new trend in middle-grade fiction in which thoughtful, well-written novels for children address the climate crisis. The books vary widely, sometimes set in the future and detailing the effects of climate change on the characters' lives or set in the present day and focusing on real climate change situations that children face. But all the novels offer students hope that they can face a challenge and make a difference. Most importantly, they all highlight that the values of family, friendship, and working together will always endure.
Fiction allows people to imagine themselves in different situations and these books allow children to see themselves making a contribution. Instead of feeling hopeless and that the situation is out of their control, these books can help ease anxiety as students read how the creative, thoughtful, and brave characters work to solve problems and change the world.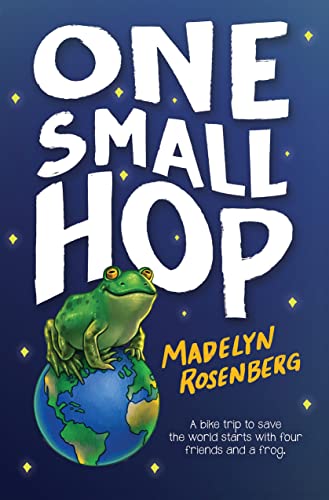 One Small Hop by Madelyn Rosenberg (Scholastic Press, 2021)
This novel finds a balance of humor, adventure, and a glimpse into the future and the effects of global warming. It is set in the not-so-distant future when global warming has made the world a very different place. Ahab and his friends risk the polluted waters of the ocean, which is now devoid of life, and go to an off-limits island and find a real, live bullfrog. It is possibly one of the last bullfrogs alive.
After an internet search, Ahab convinces the rest of his friends to embark on a bicycle journey to unite their frog with another frog. Their adventure is hilarious, exciting, and alarming. It teaches the kids that hope is alive and that they can make a difference. Author Madelyn Rosenberg builds an all-too-imaginable future ravaged by climate change but also one where a kid can still lean on his friends and work toward a better tomorrow.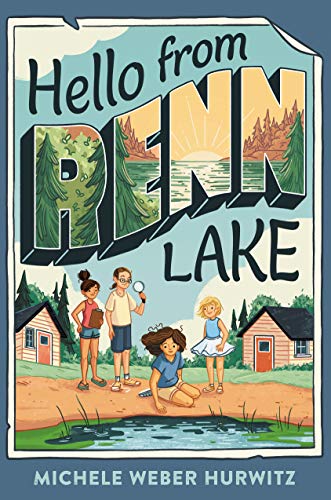 Hello from Renn Lake by Michele Weber Hurwitz (Wendy Lamb/Random House, 2020.)
Annalise Oliver is the adopted daughter of a family that has owned lakeside cabins in Renn Lake, Wisconsin for generations. The story, told from the perspective of Annalise, the Lake, and a nearby stream, reinforces the complexity of how climate change affects communities and ecosystems. Annalise's special relationship with the lake lets her sense what Renn Lake thinks and feels.
A harmful algae bloom emerges and begins to cover the lake and Annalise can no longer hear the voice of the lake. The lake is closed to human activity, which threatens the livelihoods of her family and the town. Annalise and her friends use research, ingenuity, and community organization to take action and save the lake. As the community supports the children's work, everyone learns important lessons about working together and listening to nature.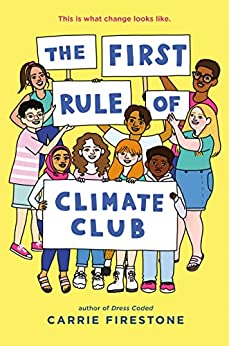 The First Rule of Climate Club by Carrie Firestone (G. P. Putnam, 2022)
In this novel, Mary Kate Murphy participates in a unique science program focused on climate change. The class opens her eyes to many things she had never noticed before about her small suburban town: Kids throw away tons of food at school, adults drive ozone-depleting vehicles, people buy clothes they don't need, and the birds in the local preserve seem distressed. Complicating the situation, her best friend is plagued with a mysterious illness.
The class tries to bring their concerns to the mayor who isn't willing to listen to new ideas for addressing any of the pressing issues. Frustrated and fired up, Mary Kate and her classmates take matters into their own hands and work to bring lasting change to their community and beyond.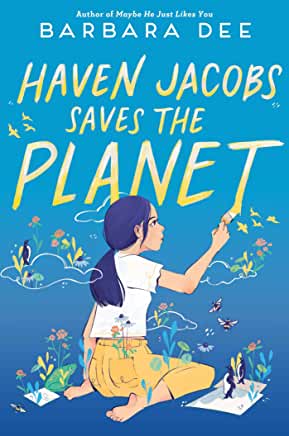 Haven Jacobs Saves the Planet by Barbara Dee (Aladdin/Simon and Shuster, 2022.)
Haven Jacobs is a twelve-year-old girl who is unable to stop thinking about the climate crisis. Her anxiety about the state of the planet begins to interfere with her schoolwork, friendships, and even her sleep. She can't stop worrying about why adults aren't trying to solve the problems.
Haven's social studies teacher challenges students to find a specific way to address environmental issues and she focuses on the annual science class project at the local river. Her brother tells her about the frogs he loved when he did the project several years before. But when Haven and her classmates get to the river, there's no sign of the frogs —but there is evidence of pollution. The only thing that has changed near the river is the opening of a new factory. Haven is challenged to work with her community to make changes that benefit everyone.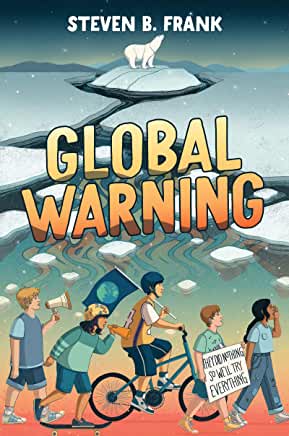 Global Warning by Steven B. Frank (Clarion /HarperCollins, 2023)
A group of friends concerned about climate change propose a new way to save the earth– crafting a new amendment to the United States Constitution. Their project sends them on a journey through America and Norway as they take steps to save the planet. Sixth grader Sam Warren and his friends think that climate change is too pressing to ignore. Adults don't seem to be up to the challenge of real change, but the kids know their futures depend on action now.
With a little help from some enlightened adults, the friends draft an amendment to the Constitution that protects the plane, passes it in Congress, and changes the hearts and minds across the country to get it ratified! Although the scenario in the book is very unlikely, the book challenges students to think big to make their voices heard.
A wonderful resource for book lists of middle-grade novels is a blog written by Afoma called https://readingmiddlegrade.com/blog/  For even more suggestions, check it out!