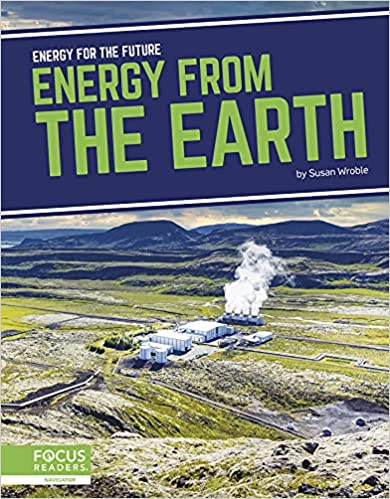 As greenhouse gases warm the planet and the climate crisis looms, students are understandably concerned about the future. Students wonder what can be done to reduce dependence on fossil fuels and what the future of energy will look like. Susan Wroble's new book Energy from the Earth (part of an educational series titled "Energy for the Future") offers positive information and hope to students. Her book focuses on geothermal energy and how it can be an important part of our energy future.
The author, Susan Wroble, who is one of my critique partners and fellow "Story Spinner,", has a passion for teaching science and writing children's books. Her concise, information-rich book offers an introduction to alternative energy. The overall tone of the book is positive, looking in-depth at fossil fuel alternatives to combat climate change.  
Aimed at the elementary school reader, the language is simple and specific, making difficult concepts accessible. Interesting photographs, explanatory diagrams, and informative sidebars enhance the text and draw the reader into the topic. 
The book explains that geothermal energy makes use of the vast amount of heat under the surface of the earth. Scientists have learned how to tap into this heat and use it as an alternative energy source. This clean, renewable energy is making scientific advances and is growing in popularity.  Young readers are given an up-close look at how geothermal energy is created, harnessed, and used. Emphasizing the need for sustainable energy, the book offers specific historical examples and highlights various geothermal technologies. 
As a literacy tool, the book contains all the elements of non-fiction, including a table of contents, pictures with captions, labeled diagrams, a glossary, and an index. A short quiz tests for comprehension and the book includes resource material for students inspired to learn more.  It is an excellent classroom resource, both for the science information it imparts and for its use in teaching about non-fiction books.
The Next Generation Science Standards requires the nation's 4th grade students to focus on "Energy," including alternative energy.  Energy from the Earth is a valuable introductory resource for students to learn more about the science and engineering behind geothermal energy.
Congratulations to Susan on the publication of her first children's book!
The book is available at your local, independent bookstore (special order) or online at: https://www.amazon.com/Energy-Earth-Future-Susan-Wroble/dp/1637390580