Picture book biographies are one of the hottest trends in children's book publishing. From mathematicians to ancient astronomers to obscure inventors, picture books are bringing inspiration and understanding about how real people impact the world in which they live.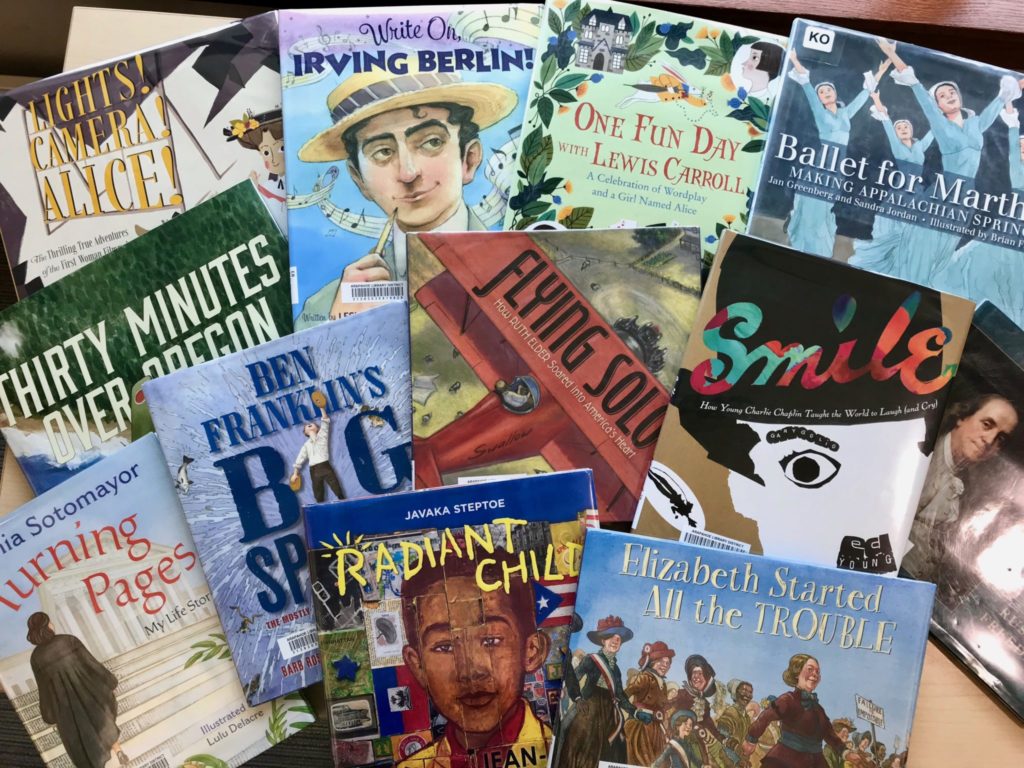 My published works are early reader biographies, so I have experienced researching and writing about people with an inspiring story to tell. I admire the people I write about and enjoy the challenge of conveying their story, as well as their life and times, to young readers.
My next project is a picture book biography. To understand what publishers are looking for, I have read hundreds of picture book biographies, which has been an education in itself. I have been awed and inspired by the lives depicted in the books.
Over and over, I have learned about people whose stories are not well known, but who lived compelling lives. The new crop of picture book biographies contain stories of courageous people who overcame challenges, while others highlight someone who saw a problem in the world and dedicated their life to a solution. The books show how creativity and inventiveness led to inspired lives or how a person's moral or intellectual strength gives a person and meaning. Such stories inspire readers to pursue their own passions with hope and determination.
Picture book biographies are a beautiful introduction to lives that mattered and are different from any other biographical format. The unique synthesis of story and pictures make a connection with the reader that transcends reading a well-researched, fact-filled tome. Picture books biographies are unique because they tell a story first, but also illuminate the world in which their subject lived.
A picture book biography is limited in scope- 32 or 40 pages, 1,000 or so words. It also must be written to appeal to a child's understandings. A cradle to grave exploration of a person's life is not possible given the format or the audience. These authors have winnowed down the stories to their essence in purposeful and imaginative ways.
As an author and not an illustrator, it has been interesting to me to study how the text and the pictures work together to tell the story in a picture book biography. The author does not need to expend words describing how their subject looks or the setting, because the pictures can surround the words with those details. The text is as carefully rendered as the pictures, with each of the words adding to the story.
After reading so many picture books biographies, I highly recommend them for children and adults. I've included the titles of twenty books that stood out for me… and left many more off this list. I hope the intriguing titles will draw you in and make you want to read them or to share them with a child. Prepare to be inspired.
I Dissent: Ruth Bader Ginsburg Makes Her Mark by Debbie Levy and Elizabeth Baddeley
Passage to Freedom: The Sugihara Story by Ken Mochizuki and Dom Lee
The Boo-Boo's That Changed the World: A True Story About an Accidental Invention (Really!) by Barry Wittenstein and Chris Hsu
Pass Go and Collect $200: The Real Story of How Monopoly Was Invented by Tanya Lee Stone and Steven Salerno
Ada's Violin: The Story of the Recycled Orchestra of Paraguay by Susan Hood and Sally Wern Comport
Guitar Genius: How Les Paul Engineered the Solid-Body Electric Guitar and Rocked the World by Kim Tomsic and Brett Helquist
Thirty Minutes Over Oregon: A Japanese Pilot's World War II Story by Marc Tyler Nobleman, illustrated by Melissa Iwai
The House That Jane Built: A Story About Jane Addams by Tanya Lee Stone and Kathryn Brown
The Watcher: Jane Goodall's Life with the Chimps by Jeanetter Winter
The Right Word: Roget and His Thesaurus by Jen Bryant
Away With Words" The Daring Story of Isabella Bird by Lori Mortensen and Kristy Caldwell
When Angels Sing: The Story of Rock Legend Carlos Santana by Michael Mahin and Jose Ramirez
Margaret and the Moon: How Margaret Hamilton Saved the First Lunar Landingby Dean Robbins and Lucy Knisley
Grace Hopper: Queen of Computer Code by Laurie Wallmark and Katy Wu
The Boy Who Loved Math: The Improbable Life of Paul Erdos by Deborah Heiligman and LeUyen Pham
Hidden Figures: The True Story of Four Black Women and the Space Raceby Margot Lee Shetterly and Laura Freeman
Mama Miti: Wangari Maathai and the Trees of Kenya by Donna Jo Napoli and Kadir Nelson
Rachel Carson and Her Book That Changed the World by Laurie Lawlor and Laura Beingessner
Look Up! Henrietta Leavitt, Pioneering Woman Astronomer by Robert Burleigh and Raul Colon